Multi Branches Laboratory Management System
 LIMS is an integrated website and mobile application to manage the medical laboratories system, as it fulfills all the needs of medical laboratories from all their professional aspects, as it allows the users of the system the results of medical tests and facilitates communication and cooperation between laboratory employees and extracts all the required reports from the laboratory. Patients can follow up test reports, lab branches, and submit a home visit request.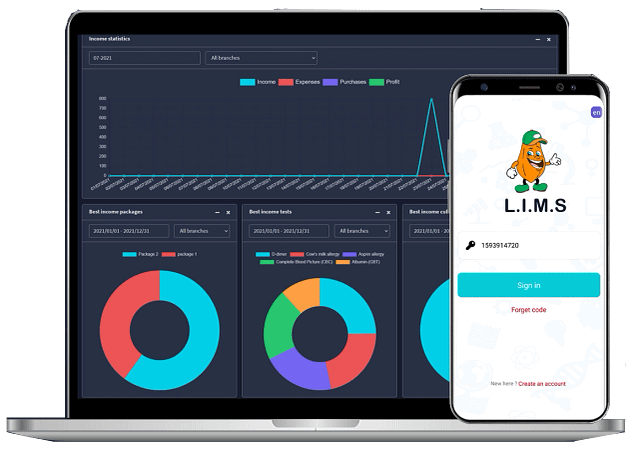 What to expect from Laboratory Management System ?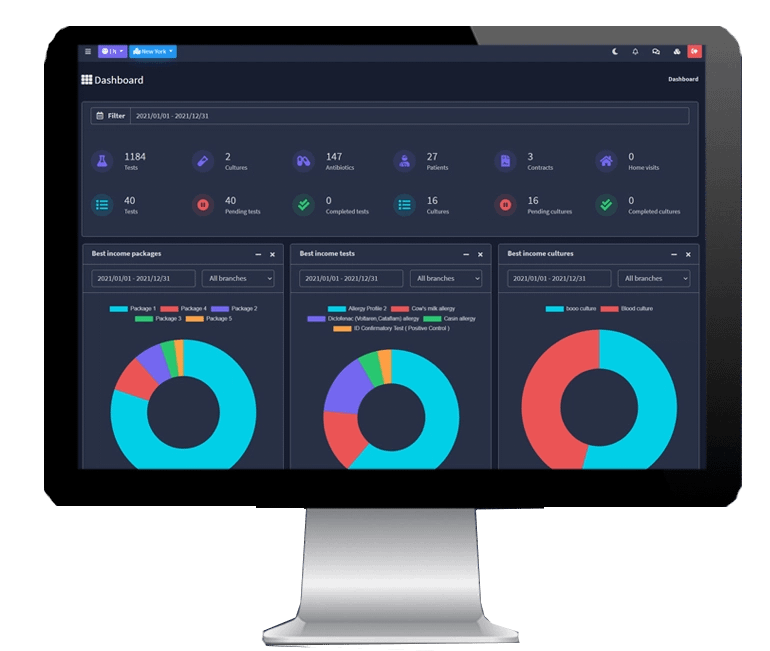 LIMS has the most comprehensive dashboard with all the essential details under one head. We all can agree that dashboards have made our lives easier. Well, from every minute detail like total Patients, Users, Invoices, tests,inventory and items, you can get quantitative data in the most simple layout. You get an overview of Estimates, Invoices, top due Payments, Projects, and Tasks to take timely actions. Get a reminder of home visit Schedules, Expiring stocks, Weekly Events, and new patients as you scroll down. Lastly, a Pie Chart can help you understand various project statuses. In short, every activity of your business can be handled through this useful tool.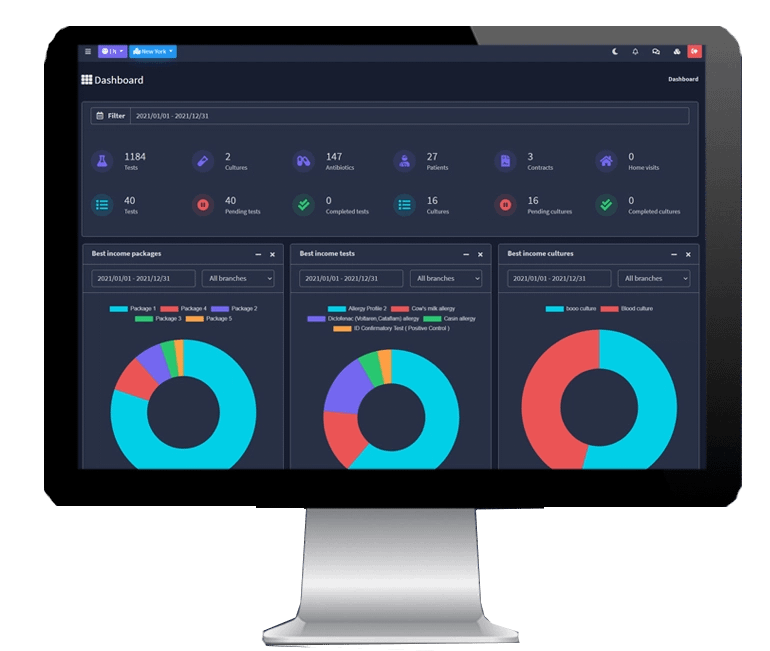 Create medical tests, multiple test components, and assign patients to tests. The test results will be available on the patient portal and it will be possible to update the results through emails or WhatsApp. Invoices can be paid in cash or through online payment methods. Assign product conception from the inventory, which helps to track the stock. A doctors' reference is available to calculate the doctors' earnings and payouts. management of available cututres, culture options management, antibiotics database management, export and import of test results.
Using our LIMS, you can create patients, patient profiles, patient histories and statistics. After collecting samples, you can create predefined tests for patients. You can create an account. This will be stored in a database for future use too. You can feed patients. cuture, antibiotic use, referral doctors. Create invoices and send them to patients via email. The test results are also available on the patients' portal and can be sent via Whatsapp directly from the LIMS dashbord. Patients can pay for test payments through the online payment gateway or with cash.A mobile app is also available for patients.
Manage various aspects of sales like sending Invoices, making Payments, managing Expenses, and Credit Notes in a single tool. You can create new invoices and edit existing ones. Add new products and receipts to existing Invoices, edit Payments and Products. Resend the Invoices, send the payment reminders and print the Invoices simply through a click. Similarly, you can manage Payments, Expenses, and Credit Notes with the utmost ease. All in all, keep all your sales fears at bay.
Admin and Patient Mobile Apps
Mobile Apps Android IOS available for both admin and Patients wich syc with LIMS backend
Below, we have offered you the world's best combo packages ever, so that you can fulfill your desire at an affordable price. Added with 6-month support and installation service absolutely free.
FULL SUITE
Made for experienced users