Restro Pro - Restaurant Management System | Restaurant POS Software
Restro Pro is the best restaurant management system with a website and mobile application. The restaurant management system will help to kickstart your restaurant business. You need a business plan and management system to accelerate your restaurant business. You do not need previous experience or single coding knowledge to handle this restaurant management software. You can give this responsibility to bdtask, we have created a cost-effective software for you so that your restaurant billing software or restaurant POS software work together.
What is Restaurant Management System?
Restaurant Management System (RMS) is a versatile software that is a type of point-of-sale (POS) software. It will make your restaurant operation system easy and automated. This is an application that you can use as a computer application or server-based web application or mobile application. It can be used for any type of food business such as restaurants, hotels, bars, bakeries, cafes, food trucks, bistros, delivery businesses, homemade or online restaurant business, etc. It will manage everything from your account billing to staff management and keep the data secure.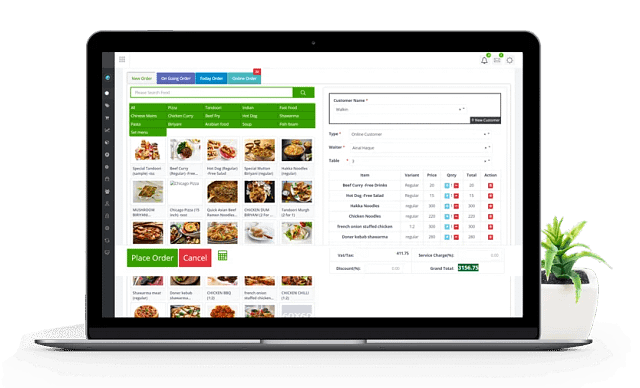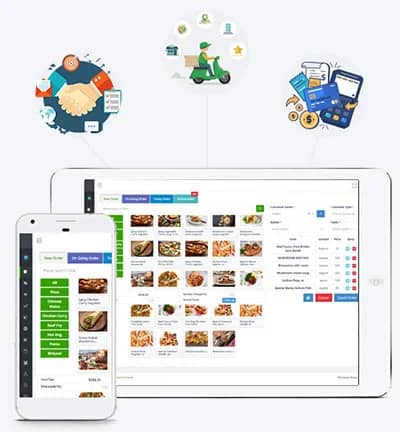 Benefits of Restaurant Management System
Able to track your orders and sales – Account management
Accurate, real-time financial statements and data will be available very quickly
You can do staff management according to schedule – Human resource management
Able to manage inventory – Food management
Easy system for customer relationship management
All in one software – Admin, kitchen, waiter, user all panel in a system, reservation system, purchase system
Complete process management system – order taking to delivery monitor
Easy payment system
Easy marketing solution – SMS & coupon, etc.
Online ordering platform
Responsive website and mobile application system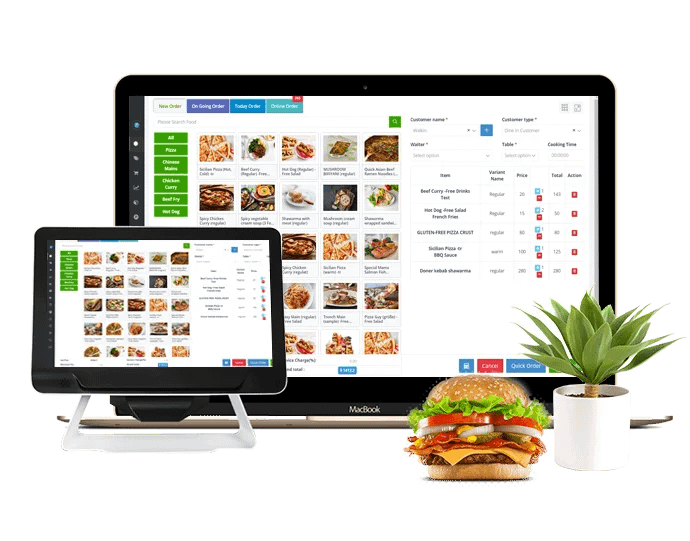 Restaurant POS Software
Restaurant point-of-sale or POS software is a vital component for managing the restaurant order. RestoPro POS will make your business easier to manage your dine-in, walking order, online order and third party food order.
Order Management System
An order management system is the most important feature of any restaurant management software. For this reason, RestoPro has an effective order management feature that helps to manage orders of customers.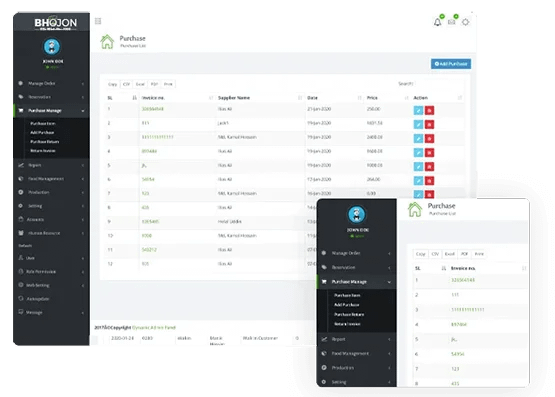 Production Management System
To manage all your products RestoPro has a dynamic product management system named Production. Using this software, you can manage your production system properly.
Purchase Management System
Purchase is very important for your business. For managing the purchase, RestoPro has an exciting feature. In the restaurant business, the purchase will happen at any time.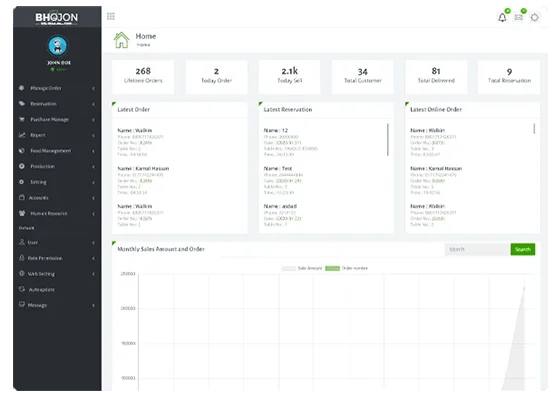 Dashboard
The dashboard is a very important part of any software. To bring all the necessary information about your business to your fingertip, we make an outstanding dashboard. You will get the list Orders, Recervation, sales, etc .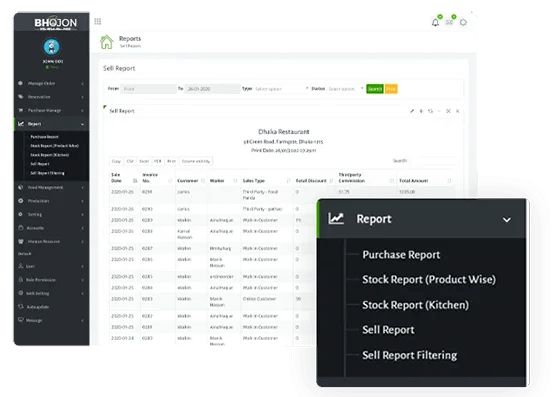 Real-time Reports
Report creation is very important for a company. But it burns too much time. On the other hand, this software has an excellent feature that helps to create real-time reports. Also, it can generate accurate and error-free reports.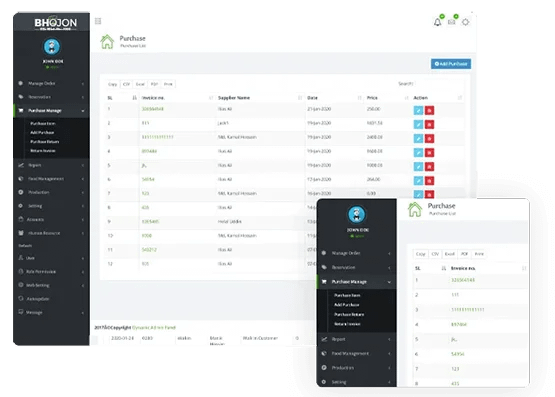 Table Reservation
Table reservation is a very important factor for any restaurant management system. Traditionally, if a customer wants to book a table, he or she may need to call the helpline and book the table. Here user can book table using app and website .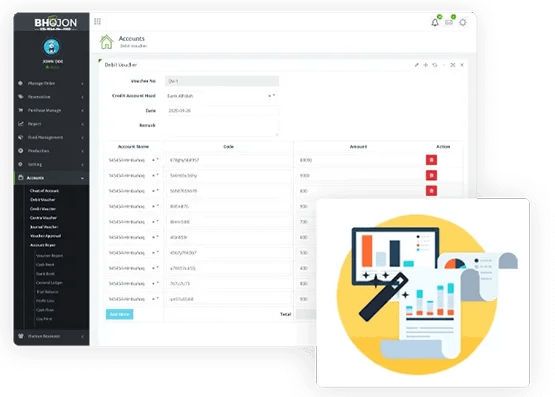 Account Management
Account management is very important for any business. In this software, that has an account management feature for performing account-related tasks easily and accurately. Here you can do all your account related work very smoothly.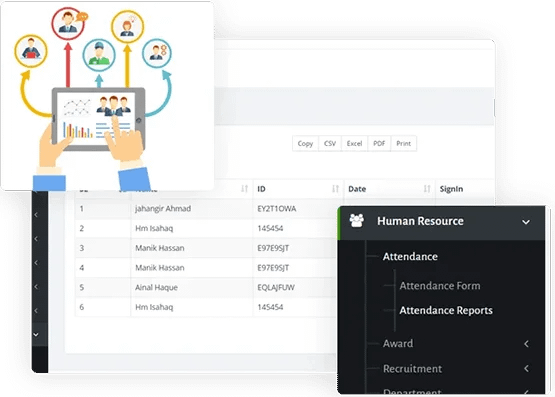 Human resources management System
An HR management system is one of the difficult challenges of all businesses. When you start a restaurant business, you must have to maintain human resources management properly.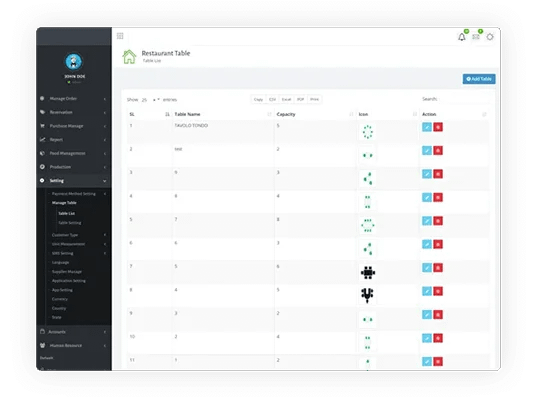 Restaurant Table Management System
The positions of tables are a very important thing. Because the beauty of a restaurant depends on it. In this software, there is a feature that can help you place the tables in the right position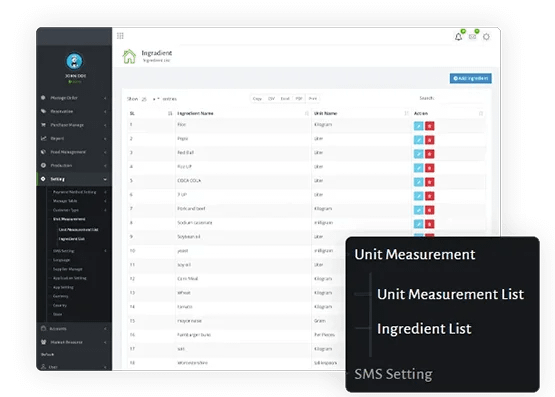 Unit & Ingredient
Using this software, you can find your restaurant unit measurements and Ingredients details that are used in your food.Which food contains how much ingredients you will find out very easily. All you need to do is update your ingredient list .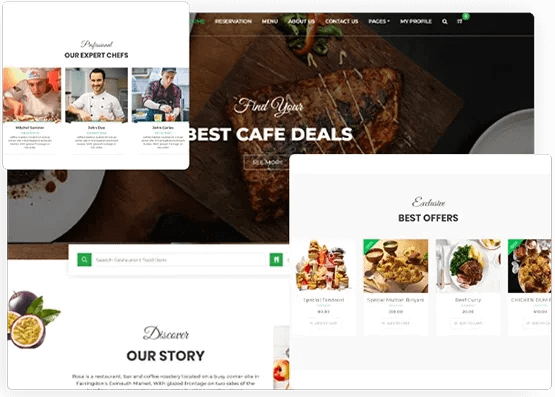 Attractive Front-end View
In this software, there are attractive front-end web views. It attracts more and more customers. When any customer visits your website, then it will create a wonderful impression for your restaurant management system.
Desktop Application & Offline POS
Since this software is a Python based desktop application. Therefore you can manage order from your desktop or laptop or PC; with or without internet efficiently. In the offline mode this application syncs data to the database whenever it gets the internet connection. So now you don't have to worry about the internet connection or data synchronization. For using Restopro on a desktop, you will need a web version of Restopro. Because it is not a self-sustaining system. You will find the following features,
Place Orders
Manage Online order.
Create Invoice.
Print Invoice.
Online Data synchronization.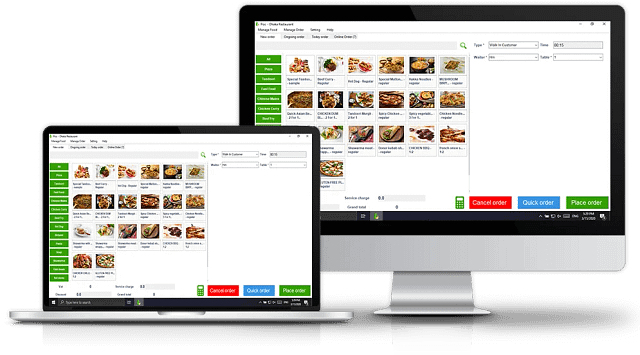 Addons: Purchase According To Your Needs
To enhance some extra facilities in your restaurant, you can fulfill your desire need by purchasing some of our best addons mentioned below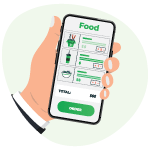 Android POS App
Get a more flexible system by integrating this Android POS App and it allows the users to operate the entire system from anywhere and anytime.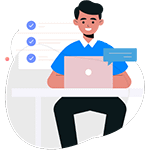 Desktop/ Offline Version
With the desktop/ offline version addon, you can easily place the order with or without the Internet, create or print invoices, and automatically synchronize all kinds of data.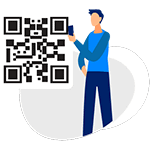 QR Code Scanner
With the QR code scanner addon, you can easily update all the orders, digitally access the full menu, order anything without contacting any waiter direct from Dine In.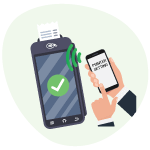 Multiple Printer Setting App
Save your time and resources by integrating the printer setting app because it will support multiple printers with your system.
WhatsApp Order & Chat
Integrating WhatsApp with the system, you can easily take orders directly from the customer using the website and chat with customers too.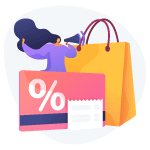 Loyalty Program
Give points to your favorite customers. Make them valuable members of your restaurant, and give them VIP services and exciting discounts.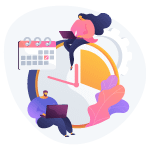 Shift Management system
Automatically set, record, and manage all of your employees' check-in, check-out, or shifting time.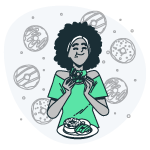 Taste Habit Program
Track and record customer's food habits by noting their chosen habits and always serve each customer accordingly.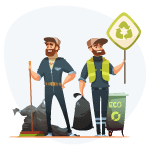 Waste Management system
Manage waste, broken goods, and scraps of your restaurant. And also, alert you to minimize wastage.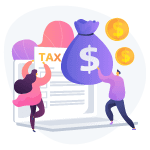 Advanced Tax / VAT Setting
These addons will help you to manage and set tax or VAT according to your country's system.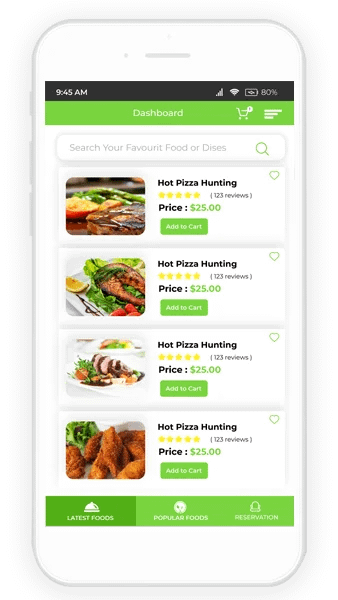 ADD-ONS
Customer App
Nowadays online shopping is very popular. With a fast delivery service, the food is also available online. Resto Pro also has an app to take orders online. The customers with this app will get the features below:
Place order
Check menu
Reserve a table
Find offers
Make favorite food list
Check order list
available in both android and IOS.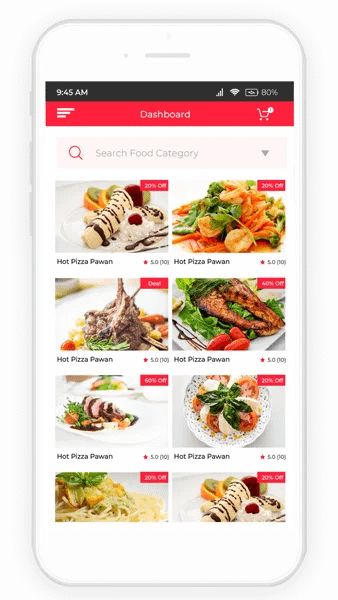 ADD-ONS
Waiter App
A smart restaurant needs smart technology. In this software, there is an app for the waiter. So, using this app, a waiter can perform these:
Take orders
List of pending order
Get notification for new online order
List of processing order
Graphical order history
List of complete order
Graphical amount history
Order receiving system
List of cancel order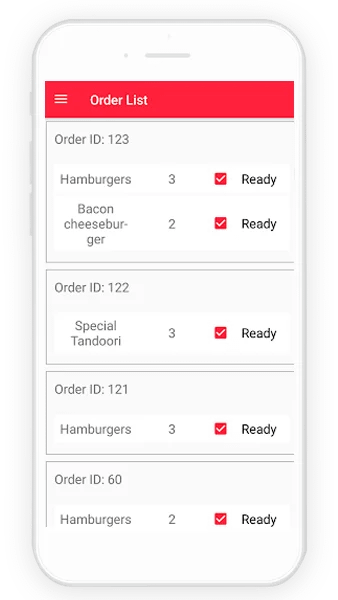 ADD-ONS
Kitchen App
You can communicate with the kitchen through this app. The features of Resto Pro kitchen app is:
Get orders form admin or waiter
Accept orders
Food status notification
If the admin or waiter sends a request for food to the kitchen, then the users of the kitchen app will accept the order. After that, they can update the food status to processing. After the food is ready to serve. The user updates the status to complete.
Purchase Resto Pro Software
Below, we have offered you the world's best combo packages ever, so that you can fulfill your desire at an affordable price. Added with 6-month support and installation service absolutely free.
Desktop/Offline Version(.exe)

Customer App, Waiter App,

Kitchen App (Without Source Code)

Multi-Printer Setting App (.exe)

Android POS (Without Source Code)
SILVER
Made for experienced users
Desktop/Offline Version(.exe)

Customer App, Waiter App,

Kitchen App (Without Source Code)

Multi-Printer Setting App (.exe)

Android POS (Without Source Code)
GOLD
Made for professionals/agencies
Desktop/Offline Version(.exe)

Customer App, Waiter App,

Kitchen App (Without Source Code)

Multi-Printer Setting App (.exe)

Android POS (Without Source Code)
PLATINUM
Made for professionals/agencies
Desktop/Offline Version(.exe)

Customer App, Waiter App,

Kitchen App (Without Source Code)

Multi-Printer Setting App (.exe)

Android POS (Without Source Code)